Private Petting Zoo - 1 hour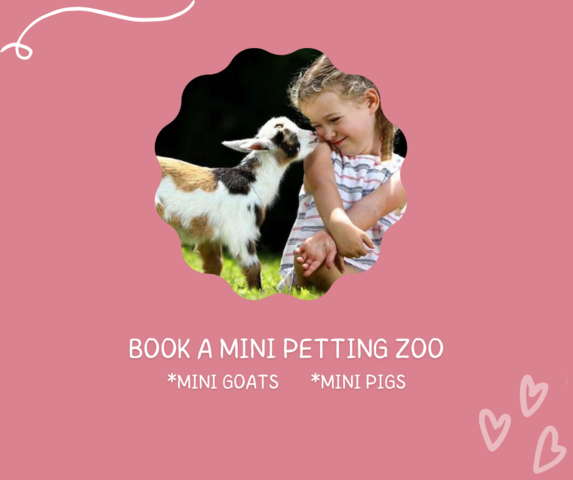 Description
PLEASE CALL OR TEXT TO BOOK. 707-861-1184
WE CAN NOT ACCEPT online orders, so please call or text for availability!
Only available for a private mobile petting zoo experience in the comfort of your home or location of your choosing.
Rates start at $250 for Vacaville and go up in price from there. Please call for exact pricing to your location if outside of Vacaville.
*3 DUCKS *Mini Baby Dwarf Goats *(possibly chickens)
*Mini Pigs only upon special request and if available (we can take mini pigs if it is in season to do so, depends on time of year)
Welcome to our mobile private petting zoo, where you can meet and interact with our adorable mini baby goats and pigs. Our private petting zoo is perfect for families with young children who are looking for a fun and educational experience.
Our mobile private petting zoo is home to four mini baby goats and two mini baby pigs, all of which are friendly and love to interact with visitors. You and your family can pet, and play with the animals in a safe and controlled environment. Of course, they have their own personality and might feel a little extra frisky certain days, but still so loveable and fun!
At our petting zoo, we strive to provide a unique and enjoyable experience for all of our visitors. We understand the importance of educating young children about animals and their role in our ecosystem. Our staff is knowledgeable and passionate about animal care, and we are committed to providing a fun and educational experience for all.Book your visit to our miniature petting zoo today and experience the joy of interacting with our mini baby goats and pigs. We look forward to seeing you soon!
We ask for an area at least safe area for private parties of 10ft x 10ft for schools and larger events. The ground can be any terrain, but should be flat to allow our fencing to stand. We prefer a shaded or covered area, but can always bring a canopy for shade . In addition to a setup area, we also require a water source such as a spigot, hose, or faucet where we can get water for the animals. A garage is perfectly fine to use for a rainy day.


********PETTING ZOO RULES *********
1. Wash your hands. Use the hand sanitizer that we provide when entering and exiting. Keep your hands and fingers away from your face.
2. You must wait for a petting zoo attendant to open the gate when you are entering or exiting.
3. No eating or drinking. Shoes must be worn inside the petting zoo.
4. Parents must supervise their children at all times when in the petting zoo area. Children under 10 must be accompanied inside the zoo by an adult.
5. No picking up, hitting, kicking, pinching, pulling, chasing, or any other forms of harassment of the animals is permitted. We reserve the right to ask a visitor(s) to leave the petting zoo.
6. No playing with the animals water or food, this includes putting anything in them.
7. No feeding the animals. Keep fingers and hands away from the animals mouths.
8. Most importantly, have fun!!!!
Statement of Understanding
Petting zoo responsibilities
Our first responsibility is for the safety of our animals and our visitors. Everything we do is based on this.

We will setup and take down the zoo on time as best as we can. We usually arrive 30 to 60 minutes before the scheduled start of the zoo to allow this to happen. However, animals are finicky, and traffic or vehicle/trailer problems can occur.

SHOES MUST BE WORN IN THE ANIMAL AREAS. This is a major concern if kids are running back and forth to bouncy houses!!

It is especially important for infants and toddlers who like to put their toes in their mouths, but anyone could step in something brown and squishy on the ground if they get to it before we do.
We will provide all the fencing and equipment needed to contain and care for the animals during the zoo. We will also bring our own water, but may need additional water for bookings over 4 hours in length, especially if it's hot out.

As a general rule we don't specifically guarantee that any particular one of the animals will be at a zoo. These are living creatures and they get sick, injured, moody, and simply worn out depending on the heat, cold, and other events we've got scheduled. Because we have multiple mini Nigerian Dwarf Goats, mini pigs, chickens. Chickens may or may not be included depending on the age and temperament of chicks and chickens available. Rabbits may also be left at home if it is too hot or too cold. If there is a particular animal you're interested in, we can do our best to try to bring them with.

We will not bring a sick animal to the zoo. However, animals can carry germs that can make people sick, so it's important that everyone is diligent about hand washing and/or sanitizing before and after petting the animals. We will provide plenty of hand sanitizer for everyone. Also, no food, drink, strollers, pacifiers, kid's toys, smoking, etc. are allowed in the animal area to prevent the transmission of germs. Everyone must wear shoes in the animal areas.

We will do our best to clean up after the animals as quickly as possible. If we miss some droppings, please let us know so we can get it taken care of.

The animals we will bring are farm animals and live outdoors. They will act naturally at a petting zoo, which sometimes means digging – especially the pigs. We will attempt to minimize any impact to the grounds we are on. However, the pigs, if the mood suits them, can turn over large areas of sod in a short amount of time!
Client responsibilities
Please have payment available when we arrive so we can get started setting up right away. As stated on the booking form, the booking fee is due in full prior to setup of the petting zoo on the day of the event. Payments made after the day of the event must be approved in advance or a 20% late fee will be applied.

Please let us know where the petting zoo will be located on the property as soon as we arrive so we can start setting up right away. We don't want to leave the animals in the hot trailer any longer than is necessary. Our preference is to setup directly adjacent to the truck and trailer. This makes for the quickest setup & teardown and the least stress on the animals and workers. If we will not be setup direct adjacent to the truck and trailer, make sure we know that before we arrive so we can plan according. Failure to disclose a distant location (i.e. a back yard) prior to arrival may result in an additional $100 hauling charge and likely a late start due to the additional setup time required. There is space on the booking form to indicate the setup location.

Allow us time to setup the zoo before kids arrive or are let into the zoo area. We will handle setup on our own and will not need assistance. We have a system with lots of work that needs to be done, and we can't be watching kids and setting up at the same time. Plus, the animals need time to settle in after a long trailer ride.

If tickets will be sold and collected, the client is asked to provide the ticket takers. Our responsibility is to care for the animals and guests, not collect tickets, check wrist bands, ensure forms are completed, etc.

Signs will be posted with the rules for interacting with the animals. Please help encourage the guests to follow those posted rules. Any guests not following the rules will be asked to leave the petting zoo area.

We do not allow the feeding of our animals in the petting zoo. They prefer to feed themselves and don't care to have food shoved in their faces. Kids often try to pick grass or hay off the ground to feed the animals, but keep in mind this is also where the animals have been peeing and pooping. We do not feed treats to the animals during zoos as they get very aggressive and will knock kids and adults over trying to get at the treats.

Rabbits and young animals may explore with their mouths. They normally do not bite, but may chew on clothes,

shoes, fingers, etc. if allowed to contact their mouths. Chicks and chickens may peck at shiny things as they think they're bugs. Parents should be careful to keep their children's fingers away from the mouths of the animals and not to allow the animals to chew.
MOST OF ALL: HAVE FUN AND ENJOY THIS UNIQUE EXPERIENCE TO MEET AND INTERACT WITH FARM ANIMALS! THE RULES ARE SIMPLE AND WE WILL HELP GUIDE AS WELL